Welcome to my home page. This web site is here mostly to publish pics of my friends, family and my travels. I'm a webmaster, artist and businessman so links to my works are here as well. Please feel free to send me comments as I do work on this site from time to time.

I'm a typical entrepreneur and capitalist. I own a sign and graphics shop in South Lake Tahoe, called Dollar Signs and Graphics. Our signs are all over town and our web sites all over the internet. I've been an entrepreneur since I was a small child, selling tadpoles and stickers to my schoolmates in 2nd grade, selling fresh homemade lemonade in 3rd and running a pet sitting business through middle and high school. I was the only 12 year old in my neighborhood making $20/hour! I'm also a real estate tycoon in training and quite the stock investor, I'm always a step ahead of the rest!

I was born in Montreal on April 2nd, 1975 and bounced around a bit. I was raised by my grandparents in Ste-Rosalie for a few years before my dad and step-mom took us over when I was 8. They raised us in beautiful Ville Mont-Royal for a few years where I attended the prestigious Brebeuf before moving to the Boston area January 21st, 1989 where I attended Marblehead High School. In 1993, I went to Umass Amherst and 4.5 years later, I finally graduated with a Bachelor In Business Administration (BBA). I immediately moved to Lake Tahoe to start my career in the computer world. I worked my way up the ranks at one single company as I ran a large dot com corporation call Global Reach Inc as VP of Operations It was a great job and I was able to really turn the company around from losing money and shrinking to a profitable, efficient and growing organization. I worked my way up the ranks as Marketing Specialist to Marketing Director and Project Manager. Global Reach Inc specializes in hosting & networking services, web design, internet marketing and profiting from many high volume web sites, many of which were high quality adult membership sites. I have now left that job to pursue full time entrepreneurship. I have been doing consulting and internet sales with my side business, WorldWide Marketing and recently purchased the assets of a sign shop to pursue creative designs for print, web and business applications. On my free time, I get to enjoy all the beauty and activities Lake Tahoe has to offer. Some of my favorites are snowboarding, boating, camping and taking advantage of the 24 hour party life Tahoe is known for. I tried to spent as much time as possible traveling when I was in the corporate world and my last major trip was to Peru. I've taken trips all over California, Nevada, New England and parts of Europe. My travels are on hold for awhile though while I get this business off the ground but I have all my past travels here and I publish these pictures on the internet for you so I hope you enjoy them! I've been learning Spanish and I hope to be heading to South America some more in the near future.
Yan Campbell
PO Box 13577
South Lake Tahoe, CA 96151
ICQ#: 4790444
Work Phone: 530-544-7058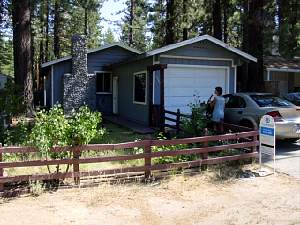 I just bought my first house in 2004 so click on the house to check out the pics!


General Questions and Information for those who don't know me.
What's your full name? Yan Campbell is my full name. I don't have a middle name.
Where were you born? I was born in the wonderful city of Montreal, in Quebec, Canada.
Where did you grow up? My folks moved us to Marblehead, MA when I was 13 so I'd say that's where I grew up. It's a small beach town in the northern suburbs of Boston, often referred to as "the North Shore".
Where do you live now and why? I live in South Lake Tahoe, California because I love the outdoors, particularly lakes and mountains. I love the pace of life here, there's always something fun to do & the beauty and excitement this town offer are unsurpassed anywhere else I've ever been.
What was UMASS like? My degree from UMASS Amherst was a Bachelor in Business Administration, Class of 1998. UMASS has a truly awesome business program and provided me with a great education and business foundation. I had an amazing 4 years experiencing young adulthood with all types of friends, situations and creating many long lasting memories and friendships.
What are your hobbies? I have many many hobbies. Some of them are: Wakeboarding, Snowboarding, Cooking, Camping, Motorcycles, Aquariums, 4wheeling, Gardening, Carpentry, Computers, Kayaking.
What languages do you speak? I learned French for the first 13 years of my life and learned English in middle school. I've been trying to pick up a little Spanish here and there also when I have the chance. I also took 4 years of Latin but I can hardly claim to speak that one.

Wanna know EVERYTHING about me? I recently took a personality test and these answers are right on! So read if you dare, these are the nitty gritty details that makes me tick!

Have a Question?
Email me